Once Upon a Time in Mexico…
Jul 11, 2022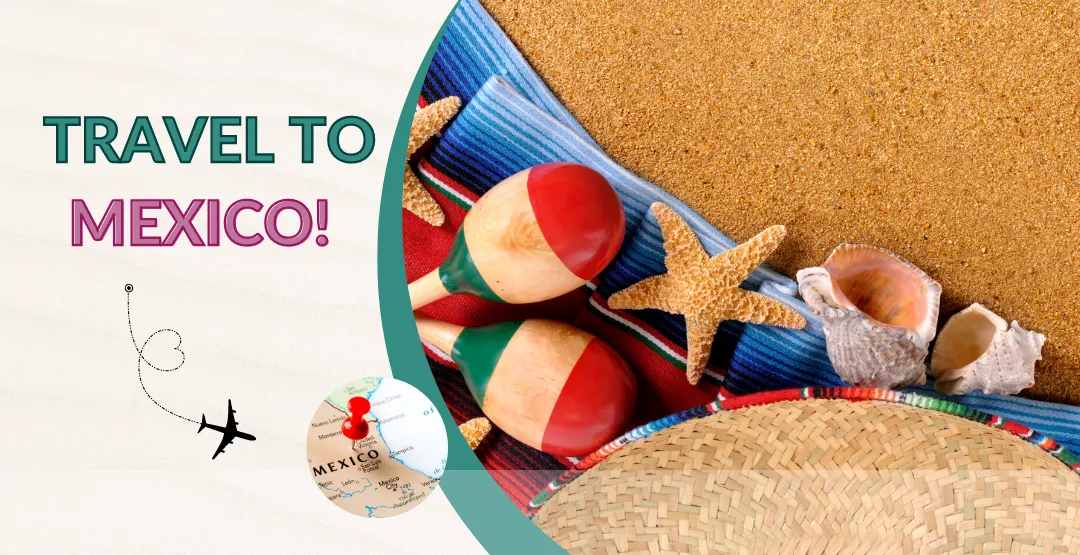 (Disclaimer - If you click and purchase any of my Amazon links located within this blog post, Heal Thrive Dream earns a small commission.
I'm participating in a blog challenge #blogboost and today's prompt was for us to pick a favorite recent travel photo, share what is interesting about the photo, location, and who
I traveled with.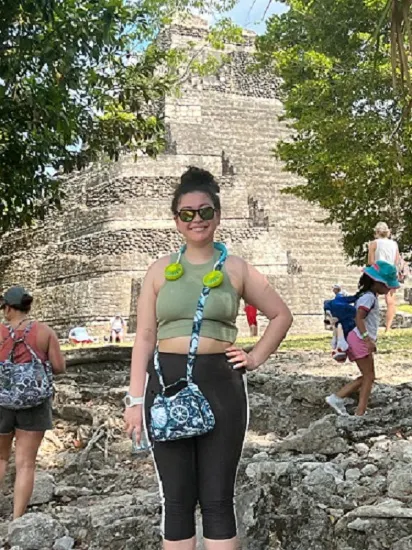 A little backstory… this was my second trip to Mexico, the first being to Cancun and I will write about that experience another day. Anywho, May is one of my most favorite months because it is my birthday, mother's day, and a holiday weekend. May of 2022, I was fortunate to receive a free cruise from Carnival (just had to pay port fees and taxes). I invited my Aunt Diane and my daughter Lena who just finished her first year of college. We took the Carnival ship Breeze to Mexico. Like I said, Once upon a time in Mexico!
First Port Stop - Costa Maya
Lena (in the photo above) and I went to view the ruins at Chacchoben Park. Aunt Di elected not to go as she had been there previously with my Uncle. She knew it would be wicked hot for us and bought us small fans to wear around our necks! Do you see it in the pic? I can NOT rave enough about how awesome these are!! The link I'm sharing from Amazon is not the same fan, but close enough! Remember, if you purchase, Heal Thrive Dream will receive an affiliate commission. https://amzn.to/3IAy1lB
A side note, our cruise had a stop in Cozumel. Not much to share as we mostly hung out at a beach resort, by the pool, sipping coctails.
A Little Costa Maya History
What makes Costa Maya, Mexico such a unique destination? The answer lies within its history and culture. From Mayan temples to ancient pyramids, Costa Maya has something for everyone.
Costa Maya is a UNESCO World Heritage Site and a major tourist attraction in the Yucatan Peninsula. This historic destination was once home to some of the largest cities in the Mayan empire. Today, visitors can explore the ruins of these magnificent structures and experience the rich culture that thrived here over 2,000 years ago. During my research, I learned population is only 500! An estimated 1.5 million passengers and over 500 cruise ships visited in 2019. Pretty impressive.
Since we only had one day at the port, we toured Chacchoben Park to learn about the Chacchoben Mayan ruins. The ruins were built in the eighth century AD, Chacchoben was a vast Mayan settlement with a Great Plaza, four grand temples, the Gran Basamento (used for religious ceremonies), the Temple of the Vessels and pyramids among other archaeological wonders. Distance from port: around 43 miles (69 km). Visiting time: around 4 hours. The most highly rated tour company is http://thenativechoice.com/. This is not an affiliate link.
Why would a Trauma Recovery Coach and Therapist Write about Costa Maya?
I'm all about finding different ways for survivors to heal. I know for myself, traveling, playing, and reading have been both healing and restorative. Traveling is one of the best ways to heal from any kind of trauma. The idea behind traveling is to leave everything behind and go somewhere new. When you travel, you are able to forget about all the things that stress you out at home. This way, you can start fresh and feel better simply by taking a break and experiencing a new culture, new foods, and new surroundings to explore.
What do the Mayans offer Therapeutically?
The Mayans have a long history of using a variety of methods for healing, such as herbs, massage, acupuncture, and other natural remedies. They also believe that the body is made up of seven chakras, which energy centers located throughout the body. These chakras correspond to different parts of the human anatomy, such as the head, heart, stomach, etc. The Mayans believe that chakras can be opened through meditation, exercise, diet, and other means. They also have a strong belief in spiritualism and believe that the soul can be healed through prayer.
My stay was too short to partake in any local healing centers but I did score a discounted rate for the Turkish whirlpool on the cruise liner and will be writing about that experience in a separate post.
Although a destination with therapeutic and healing benefits is ideal for survivors, it won't be much good if we don't consider travel risks. The most important piece of information survivors need to know before traveling, especially solo traveling is…
Is it Safe to Travel to Costa Maya?
Costa Maya is only accessible from the sea and one road. Security is allegedly abundant and I felt safe during my visit. I couldn't find anything suggesting Costa Maya is unsafe for women or travelers. Of course, being mindful of personal safety is encouraged wherever you live and explore the world. When preparing this post. I did find several travel sites reporting that crime pertaining to tourists is largely due to drugs.
"A major reason the cartels are here is because of the large demand for drugs, especially among tourists," said Lucio Hernández Gutiérrez, the security chief for Mexico's Quintana Roo state. "It's a very difficult thing to stop." This issue seems to be most prevalent around Cancun. Overall, tourist areas in Mexico are safer than most U.S.citites.
State Department
I think the State Department may be on the conservative side of safety (based on my own personal experience with them). However, in doing my due diligence, It is important to know the State Department asks tourists to enroll in its Smart Traveler Enrollment Program (STEP) to receive Alerts and make it easier to locate you in an emergency.
ASSISTANCE FOR U.S. CITIZENS
U.S. Embassy Mexico City
Paseo de la Reforma 305
Colonia Cuauhtemoc
Mexico, D.F., Mexico C.P.06500
Telephone 011-52-55-5080-2000
Emergency American Citizen Services: 01 800 681 9374 (toll free in Mexico) / 81 4160 5512 (from within Mexico) / 844 528 6611 (toll free in the U.S.)
General Safety Tips:
Avoid locations with crime reputations, known gang or cartel activity, or places that make the hairs on the back of your neck stand up. Trust your intuition.

Let someone know where you are AT ALL TIMES.

Be aware of your surroundings. This is especially important when traveling alone.

Limit alcohol consumption. Don't put yourself in a vulnerable position. It isn't worth your safety.

Be selective when using ATMs. Stick with the resorts or cruise lines whenever possible. Avoid taking out large amounts of cash and don't carry wads of cash on you.

Leave your expensive jewelry at home.

Don't buy drugs! The dealer could be in a cartel. Getting high is not worth your life or getting thrown into a Mexican jail. Hopefully, I am stating the obvious.


If I get a chance to go to Casta Maya again
I would plan to spend time in Majahual. I would eat local, check out the free Mayan museum and search out a healing center. I'm sure my chakras would thank me. If time permitted, I may also spend time relaxing at the beach with water sports being optional.
I would also read this cool source I found when researching for this blog post. If you are cruising soon, check it out: cruisecritic.com.The other guide option is Fodor's Travel Books! If you need one, here you go! https://amzn.to/3c9Jlsz (I will receive a small commission as an Amazon affiliate if you make a purchase using my link). As always, may your adventures be healing, may you thrive and for goodness sake, please dream!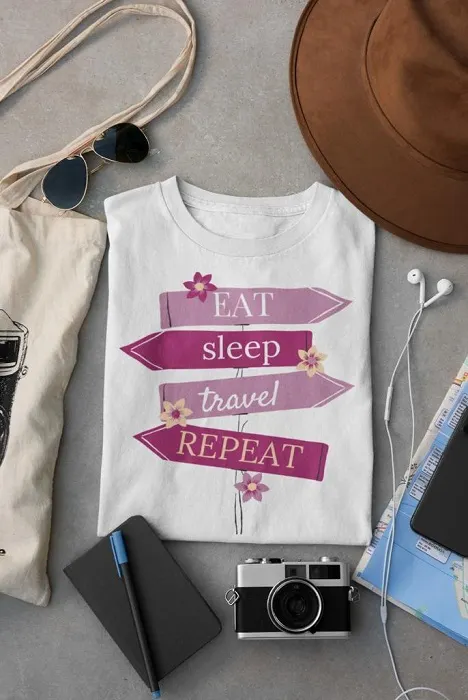 Please see our travel and inspirational products on HTD-Boutique.com
We appreciate your support of our small business!